08 August 2017 - Strong inclination of Farmers towards goat farming
A monthly meeting of Progressive Goat Farmer Association (PGFA) was held on at Guru Angad Dev veterinary & Animal Sciences University, Ludhiana.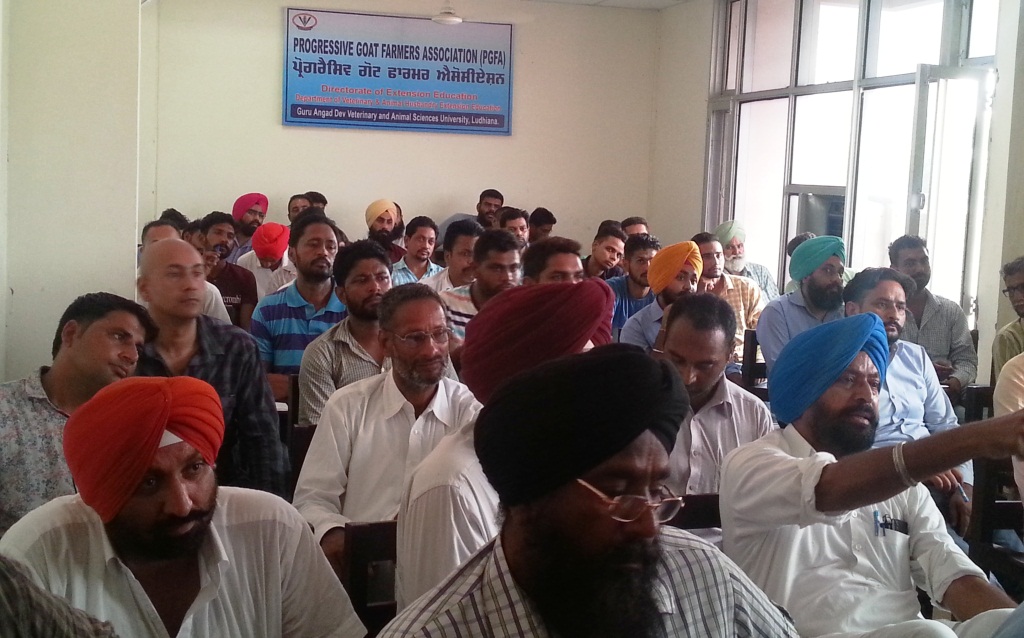 A total of 70 farmers from every nook and corner of Punjab State participated in this meeting. Dr Parminder Singh, Professor, Dept of Veterinary and Animal Husbandry Extension Education delivered a lecture on latest nutritional interventions during transition period for enhancing production. Dr Dhiraj Gupta, Assistant Professor, Dept of Veterinary Medicine delivered a lecture on Bacterial diseases of goat. Dr H K Verma, Director Extension Education, GADVASU revealed that Goat farming is gaining all-time high popularity in the state overcoming the social taboo attached with this farming. Rural educated youth are showing keen interest in Goat farming, as goat is a ready source of income for the farmers. He further told that goat farming is a profitable business with minimum risk. Dr S K Kansal, Head , Department of veterinary extension, revealed that different farmers associations like Goat, Pig, Fish are running under the aegis of university. Dr Rajesh Kasrija and Dr Khushpreet Singh, Coordinators Progressive Goat Farmer Association told that university is regularly providing the technical backup to the goat farmers by conducting the monthly meeting of association on every first Friday of the month. Jugraj Singh, President Progressive Goat Farmers Association thanked all for their active participation. Meeting was sponsored by Livestock Solutions Private limited, Rajpura. Next meeting of Progressive Goat Farmers Association will be held on 01.09.2017. GADVASU is honouring goat farmer by awarding C M Award at the annual March, Pashu Palan Mela for the innovative goat farm.