24 July 2017 - KVK, Tarn Taran organized Animal Welfare and Treatment -cum-Farmer Awareness Camp
Krishi Vigyan Kendra, GADVASU, Booh, Tarn Taran organized an Animal Welfare and Treatment-cum-Farmer Awareness Camp, at village-Sabhra,
Tarn Taran. Approximately 180 farmers attended this animal welfare and treatment-cum- farmer's awareness camp from the villages Pind Sabhra, Jor Singh Wala, Kirtowal. More than fifty animals were treated on the spot by experts of Krishi Vigyan Kendra, Tarn Taran and Guru Angad Dev Veterinary & Animal Sciences University, Ludhiana. Total 45 cases of animals (buffalo and cow) were handled and treated. On twelve animals surgery was performed and 8 animals were treated for gynecology problems. Twenty five animals were diagnosed for different diseases and treatment was advised on the spot. Dr.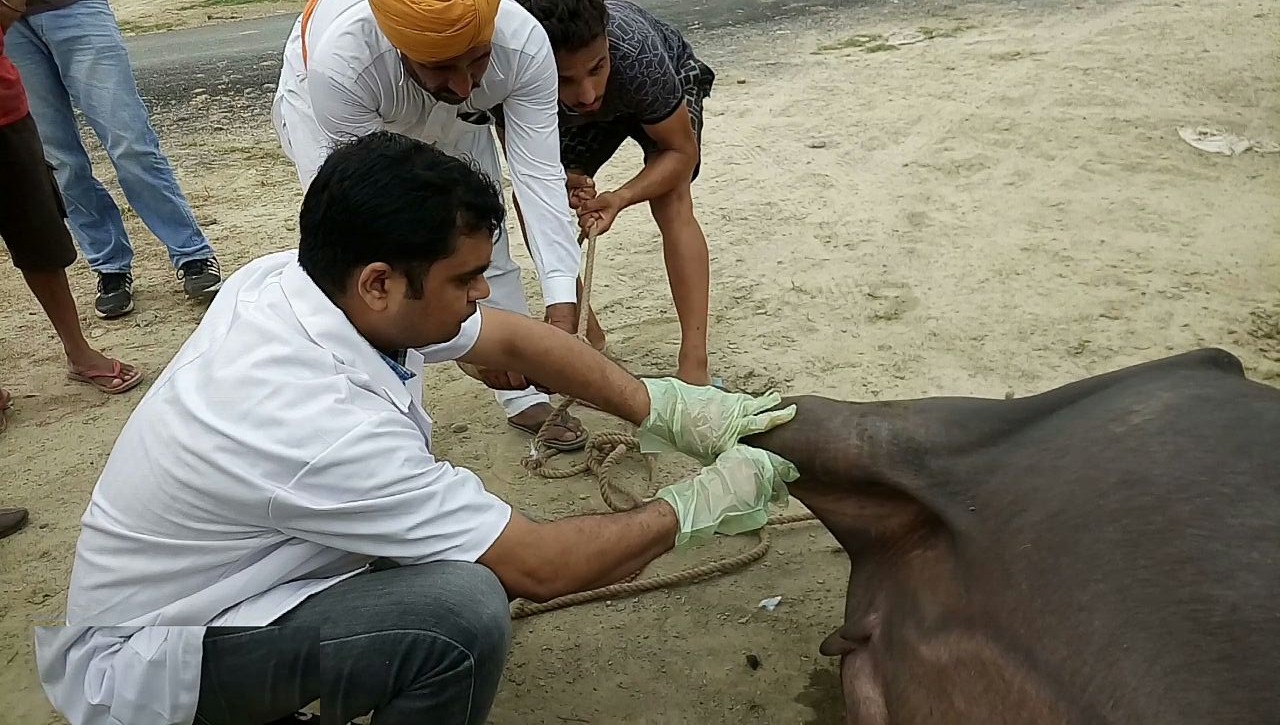 Ashwani Kumar, Assistant Professor, Department of Gynaecology and Obstetrics, GADVASU, Ludhiana delivered lecture about different gynaecological problems and their solution in animals. Surgical cases were handled by Dr. Rahul Udehiya, Assistant Professor, Department of Surgery, GADVASU, Ludhiana and Medicine problem cases were handled by Dr. Randhir Singh, Assistant Professor, KVK, Mohali. Scientific lectures were delivered on various aspects of livestock farming regarding feed, fodder, livestock management, animal health and milk production. S. Joginder Singh, Deputy Director (Punjab Dairy Development Board, Tarn Taran) shared his experience with the farmers and gave tips to establishment of new dairy farm unit and loan facility by the government. Krishi Vigyan Kendra and different companies viz. Virbac Animal Health, Cargill Pvt. Ltd., Purevet Pharma, Pioneer Seeds and B. S. Gill Tractor exhibit their products to the farmers.
Speaking on the inaugural session, Dr. Balwinder Kumar, Deputy Director (Training), Krishi Vigyan Kendra, Tarn Taran provided a brief insight about working and mandates of Krishi Vigyan Kendra, and encouraged farmers to manage their dairy animals and farms scientifically. Dr. Kumar comprehensively discussed about feed, fodder and silage management for profitable dairy farming. He also highlighted various facilities developed and provided by GADVASU and KVK. Dr Shashi Pal was looking after the animal treatment programme. Farmers thronged KVK's stall for purchasing the university books, mineral mixture, uromin licks and bypass fat. Pamphlets having information related to scientific livestock farming were distributed to the farmers.